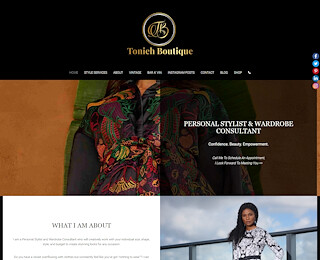 Tonieh Boutique Bar a' vin is a high fashion boutique in Fort Lauderdale with a chic ambiance, an expansive wine collection, and your favorite styles. Our wine bar and boutique offer a unique shopping experience, making us the #1 women's boutique in Fort Lauderdale.
What makes us the best high fashion boutique in Fort Lauderdale?
Our wardrobe consultant, Tonieh, handpicks the clothing pieces that we sell in our shop from the top designers in the country. We sell the trendiest clothes at affordable prices in Fort Lauderdale.
Our boutique also ensures a wide selection of fine wines that our customers can enjoy while shopping. 
Top reasons to shop at a high fashion boutique
Shopping at a fashion boutique allows you to buy one-of-a-kind women's apparel and accessories. If you believe in wearing rare pieces of jewelry or fashion accessories, a fashion boutique can cater to your needs more precisely. The dresses and outfits you buy from a boutique will earn you several compliments as they make you look elegant, classy, and rich.
Also, fashion boutiques have highly trained and experienced assistants and wardrobe consultants to assist you in the buying process. They can help you pick out clothes that best complement your body type and complexion and make relevant recommendations along the way. 
Qualities to look for in a fashion boutique
It can be hard to find a fashion boutique that offers a stress-free shopping experience. With very few dress boutiques selling trendy clothes at affordable prices, here are few qualities to look for in an apparel store:
Trendy yet unique styles
With every season bringing a new wave of fashion trends, the boutique you choose should have a large variety of trendy yet chic clothes in all sizes. Be sure to visit a store that does not have a carbon copy inventory of every other neighboring clothing boutique. The last thing you want is wearing an expensive dress to the office Christmas party and spot ten others sporting the same outfit.
High-quality clothing at affordable prices
Make sure to look for clothing boutiques that sell clothes within your price range. Refrain from investing in clothes or accessories that are pretty on the outside but look like they will fray after a few washes. Also, if you have enough reasons to believe that the clothes you purchase will go out of style the following season, save your money.
Attentive & knowledgeable staff
Pick a designer boutique instead of a retail outlet to buy exclusive dresses and outfits. Retail chains sell thousands of clothes in the same color and design, and there is nothing unique about wearing a mass-produced outfit. High-end clothing boutiques create limited varieties of dresses, skirts, and tops in unique colors and designs, allowing you to sport a one-of-a-kind outfit.
Tonieh Boutique Bar a' vin sells handpicked fashion clothing at affordable prices. Tonieh is a personal stylist and wardrobe consultant and can help you pick the best apparel from our store for your body type. Contact us at 954-909-5211 to learn more about our High Fashion Boutique in Fort Lauderdale.
High Fashion Boutique Fort Lauderdale